Thyroid therapy
Radiofrequency ablation (RFA)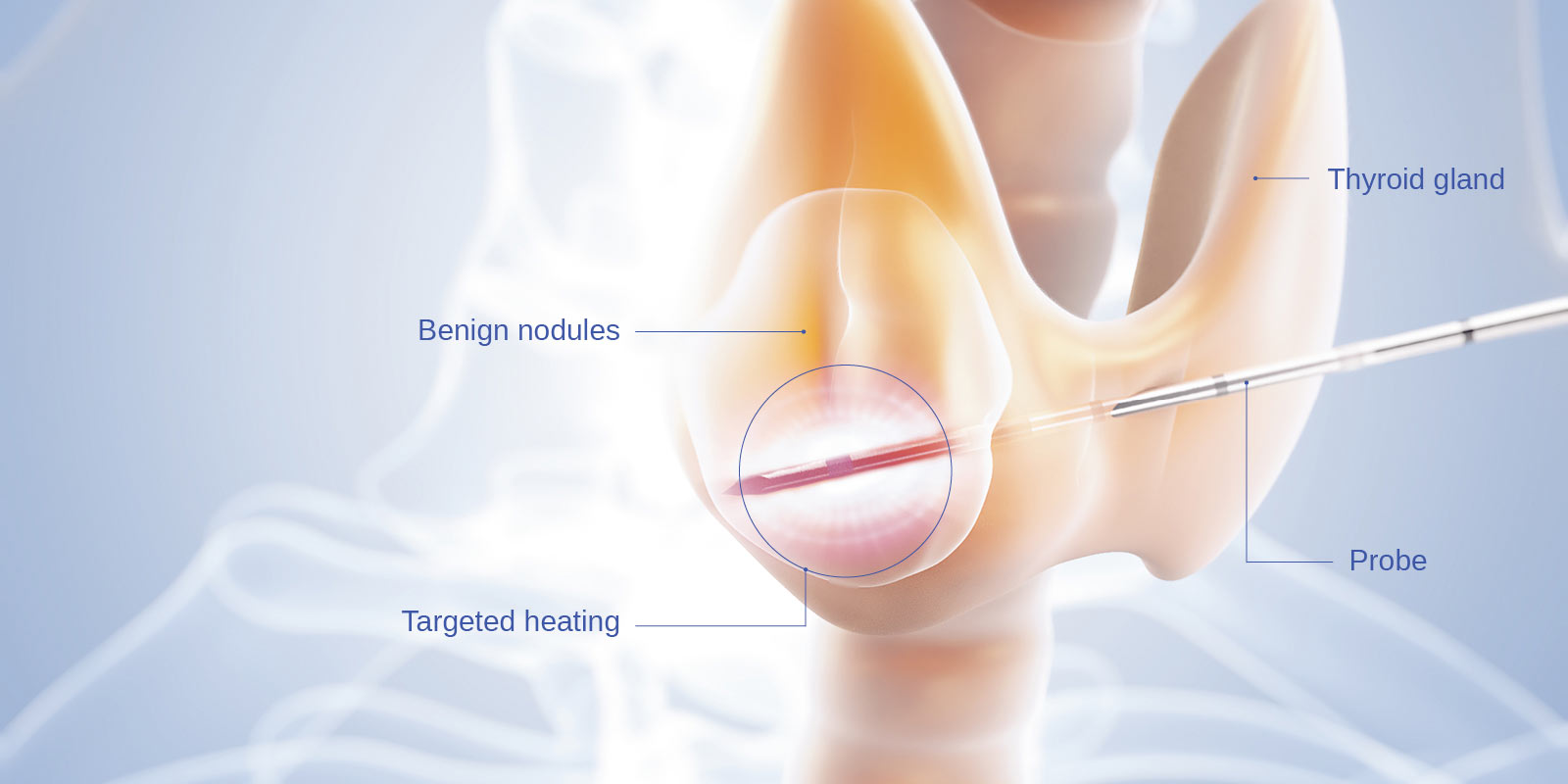 How does radiofrequency ablation (RFA) work?
Radiofrequency ablation (RFA) is a minimally invasive method of thermally removing benign thyroid nodules of different size, texture and function (hot, cold) under local anaesthesia. During this procedure, the affected area of the thyroid gland is heated with a special probe that is controlled by ultrasound. In contrast to thyroid surgery, where part or all of the thyroid gland is removed, this is a safe procedure that is particularly gentle on the tissue. The thyroid gland remains intact as a whole and even recovers to such an extent that in most cases no thyroid medication is required after the operation. The surgical scar, which many patients fear, can also be avoided.



What are the chances of success?
Due to the body's own immune response, the organism begins to break down the nodal tissue immediately after the treatment. Already after a few weeks, the reduction of the lump is clearly noticeable for the patient. After three months, we can observe a reduction of the nodule volume by 70 to 90 percent.
In the case of autonomous, hyperfunctional nodules, the autonomy, i.e. the excessive hormone production, decreases directly after the treatment and is eliminated within a period of one to six months through the above-mentioned reaction and the body's own hormone breakdown.



How does the therapy work?
In order to clarify whether radiofrequency ablation is a suitable therapy for you, a tumour scintigraphy (MIBI) and a fine needle aspiration (FNP/FNCC) are first carried out in our practice. If the results of both procedures are negative, a date for the actual intervention will be set. Depending on the size, location and condition of the nodule, thermoablation will be performed on an outpatient or inpatient basis.
If the therapy is performed as an inpatient, you can leave the hospital the next morning.



What do I need to know before the procedure?
If the session is scheduled in the morning, please come to the appointment on an empty stomach. If the procedure is scheduled for later, you can have a small, light breakfast up to three hours before the procedure.
Of course, we will inform you about all details of the planned therapy and inform you about potential risks and side effects during a detailed personal consultation.



Are the costs of the procedure covered by my insurance company?
Yes, RFA therapy is a service that is covered by both statutory and private health insurance companies


These are the advantages
of thermoablation:


Treatment with local anaesthesia
No radioactive substances
Short therapy duration: Only a few minutes per treatment
Protection and preservation of healthy thyroid tissue
Reduction of the nodule volume by about 50% after three months
No dreaded surgical scar
Quick return to a normal daily routine
Usually no medication needed after surgery
Treatment can be repeated if necessary
6 steps to
successful a therapy
1
Welcome to the Thyroid Centre
2
Detailed examination and diagnostics
4
Therapy recommendation and explanation
5
Appointment for the procedure
6
Performing the radiofrequency ablation
Doctors with experience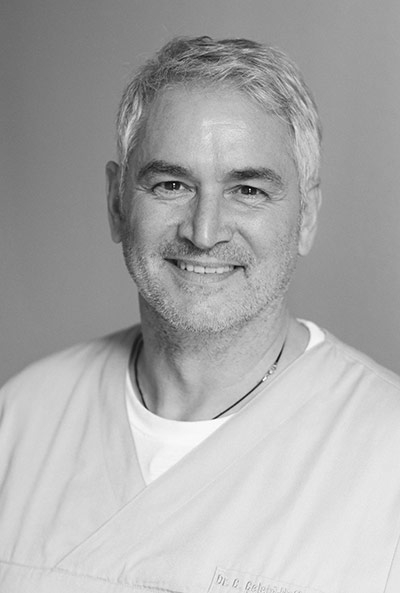 MD
Dr. Christian Çelebi-Hoffmann
Specialist in radiology and
Nuclear medicine
Vita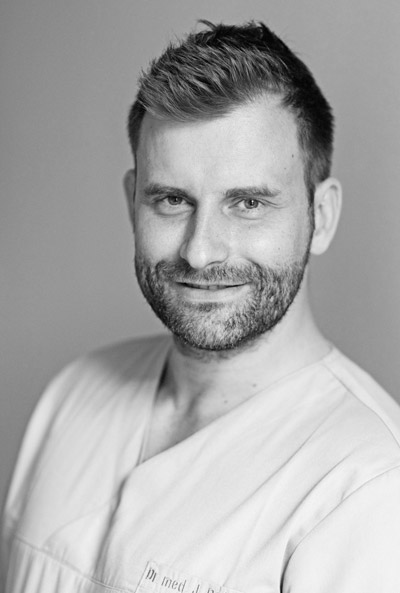 MD
Dr. Johannes-Paul Richter
Specialist in radiology and nuclear medicine
Medical physics expert
Vita
MD, FEBNM
Dr. Sven Herbert Walter
Specialist in radiology and nuclear medicine
Medical Consultant
Vita
Dr. med.
Christian Çelebi-Hoffmann
Specialist in radiology and nuclear medicine
1994
Medical approbation
1994-1996
Residency at the FU Berlin - Steglitz
1996-2001
Employee of the Radiology Department of the FU Berlin - Steglitz (Charité CBF)
2001-2006
Staff member of the Nuclear Medicine Department of the FU Berlin - Steglitz (Charité CBF)
2004
Specialist examination in diagnostic radiology
2005
Doctorate at the FU Berlin
2006
Specialist examination in nuclear medicine
2007-2013
Staff member in nuclear medicine practice
2013-2016
Head of MVZ Nuclear Medicine Charité CCM
2016-2019
Staff member in nuclear medicine practice
Seit 01.07.2019
Owner of the MVZ AnthroNUK
Memberships
German Society for Radiology
German Society for Nuclear Medicine
Berlin-Brandenburg Society for Nuclear Medicine
Berlin-Brandenburg Society for Radiology
Dr. med. Dipl.-Phys.
Johannes-Paul Richter
Specialist in radiology, specialist in nuclear medicine and medical physics expert
2005
Degree in physics (TU Berlin)
2008
Licence to practise medicine (Charité Berlin)
2009-2014
Staff member of the radiology department
2014
Specialist examination in radiology
2014
Doctorate at the University of Tübingen
2014-2018
Staff member in nuclear medicine
2018
Specialist examination in nuclear medicine
2019
Qualification as medical physics expert
seit 01.07.2019
Medical director and owner of the MVZ AnthroNUK
Memberships
German Physical Society
German Society for Radiology
German Society for Nuclear Medicine
Berlin-Brandenburg Society for Nuclear Medicine
Berlin-Brandenburg Society for Radiology
MD, FEBNM (Fellow oft the European Board of Nuclear Medicine)
Sven Herbert Walter
Specialist in radiology and nuclear medicine
1993-2010
Medical officer career in the German Armed Forces
2001
Licence to practise
2001-2002
Medical Internship (German Armed Forces Hospital, Berlin) / Radiology, neurology and psychiatry
2003-2007
Various assignments as medical officer (troop doctor, KFOR deployment, general staff in the medical office, radiology at the Air Force Medical Institute)
2005
Doctorate at the University of Erlangen-Nuremberg
2007
Medical quality management
2008-2012
Staff member in radiology and nuclear medicine
2012
Specialist examinations in nuclear medicine and radiology
2013
European Fellowship in Nuclear Medicine (FEBNM)
2012-2015
Staff radiology and nuclear medicine in clinic and practices
2015-2020
Head Physician Radiology and Nuclear Medicine at the Proton Therapy Centre in Munich
2020-2021
Head of Nuclear Medicine at German Armed Forces Hospital Berlin
Seit 04/2021
Founder and owner of the private practice PRIMENOSTICS
Medical Consultant in cooperation with AnthroNUK
Memberships
German Society for Radiology
German Society for Nuclear Medicine
European Association of Nuclear Medicine
European Society of Head and Neck Radiology
European Society of Musculoskeletal Radiology
European Society of Oncologic Imaging
European Society of Radiology